Pedagogical Engineering and Multimedia
2008/2011 "Cyber School" Program
"For the Development of Digital Technology
Within the MEDERSAT.COM network"
The "DIGITAL SCHOOL" Program, initiated by Dr. Leila Mezian Benjelloun, Chairwoman of the BMCE Bank Foundation, within the MEDERSAT.COM school network is based on one strong belief: widespread use of digital technology in the educational environment improves the quality of teaching as well as the efficiency of Moroccan schools for children and also improves the schools' functioning and open-mindedness.
This program, after having been very successfully experimented with at the Bouskoura school during the 2007/2008 school year (multimedia classroom, interactive white board), will contribute significantly to improving the quality of education offered throughout the MEDERSAT.COM school network, by allowing communication between all concerned parties, by promoting pupil autonomy in learning, and by contributing to the progress of the new generations' knowledge and skills, with these generations currently referred to as "digital natives".
This innovative and ambitious program integrates three basic components:
Infrastructure and equipment
Combined in-person and distance teaching via an e-learning platform (creation of on-line courses)
Digital pedagogical content developed by creating a pedagogical laboratory

The developed contents will be available on the medersat.com.edu website, designed as a virtual learning environment ("ENT" in French) and collaborative space dedicated to the production and exchange of educational resources among teachers.
The infrastructure and equipment component is subdivided into sub-components:
Construction component: multimedia classrooms
Interactive component: equipping MEDERSAT.COM schools with interactive whiteboards and internet connection (critical component of the 2008/2009 action plan)
Material and software component: equipping schools and multimedia classrooms (2009/2010)
Projects Realized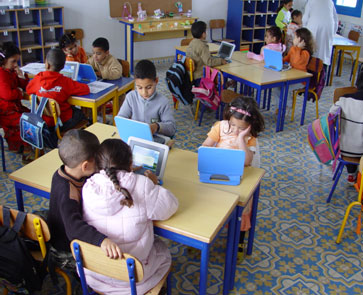 Equipped MEDERSAT.COM schools with interactive whiteboards
Organized several training sessions on the educational use of interactive whiteboards and ITC in Amazigh language classes
Experimented with pairing of classmates with the GENIE and INTEL programs
Universal implementation of multimedia classrooms within the "DIGITAL SCHOOL" project.