Promotion of Amazigh Language
By prioritizing the establishment of an effective language policy in harmony with the development of a Moroccan identity and also responsive to the need for openness and modernity, the Foundation places language learning at the heart of its education plan, supporting all other subjects.
We also consider mastering one's native language, namely the Amazigh language, as the best way to contribute to the affirmation and development of the pupil's personal, social and cultural identity. Through reading, writing, hearing and speaking in one's native language the student forms his or her own vision of the world.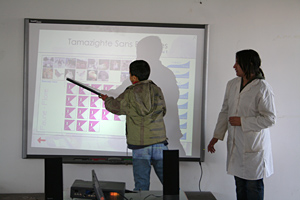 In addition, learning several other languages allows students to nourish the knowledge of their native language and to appreciate their cultural heritage. Therefore, we have included learning a second or third language as early as preschool, to provide students with one of the most relevant tools to participate within a pluralistic society open to other cultural perspectives.
At the close of the primary school cycle, native Amazigh and Arabic speaking pupils must be able to read, write and understand written texts in Amazigh, Arabic and French.
Since as early as 2001, the BMCE BANK Foundation initiated a program for the development of Amazigh language schoolbooks and organized the first training session for its teachers in Boukana (Province of Nador).
Projects Realized
Amazigh language teaching and evaluation introduced at all levels (from preschool to 6th grade) ;
Amazigh manuals, "Anlmd Tamazight", developed and published
Two didactic software programs designed and developed for interactive multimedia learning of Amazigh
Creation of a basic monolingual Amazigh dictionary
Library books and materials provided to school libraries
everal initial and continuing education training sessions organized for Amazigh teachers.
Activities, Conferences and Seminars
Participation in the first International Education and Professional Fair, SIEM, in Casablanca, May 2007;
Presentation of BMCE Bank Foundation's experimental, new Amazigh language education program at the Amazigh international seminar organized in Agadir by the Ministry of National Education (28th and 29th of March 2008);
Awarded 2nd prize for best Amazigh software at the Innovative Teachers National Forum, Rabat, March 2008;
Participation in the first days of the International Forum on the Amazigh Language and Culture organized by the Agadir Faculty of Letters and Humanities, under the title "Amazigh learning and research prospects", 25/26 April 2008.
Library books and materials provided to school libraries
Participation in the "GETS 2008" Educational Technology World Summit organized by SMART TECHNOLOGIES in Cairo, Egypt (May 6th to 10th 2008).