Message from the Chairwoman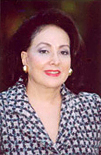 By making education a key priority, the BMCE Bank Foundation has positioned itself as an experimental laboratory for the Ministry of National Education, Higher Education, Training and Scientific Research, drawing the core elements of its educational and pedagogical renewal strategy from the National Charter for Education and Training.
Encouraged by successful educational experiments in Morocco and in other countries, the BMCE BANK Foundation instituted the Medersat.com program. It aims to create an educational model that will allow children from underprivileged backgrounds in rural areas to engage in a successful school career and also provide practical solutions to difficulties associated with teaching and learning in the classroom.
This national educational program was established and implemented in complete agreement with the public authorities, led by the Ministry of National Education, Higher Education, Training and Scientific Research, sharing skills and resources with this ministerial department.
The Medersat.com program is based on values of modernity, tolerance, openness and solidarity, supporting a set of measures aimed at improving the quality of teaching. We have thus implemented a bold language policy, which considers native language mastery, specifically the Amazigh language, as the appropriate vehicle for the affirmation and development of the pupil's personal, social and cultural identity.
In the same vein, we have programmed learning a second language starting in pre-school, an important tool to enable students to progress in a society that is open to other cultural worlds.
At the Foundation, our actions also aim to introduce preschool education in all the Medersat.com schools, and to provide them with a modern and effective pedagogical supervision and continuing education system, integrating systematic annual student achievement assessments.
At the Foundation, we strive to ensure that our projects harmoniously mesh with the National Initiative for Human Development (INDH) initiated by His Majesty the King Mohammed VI. It is in this respect that the community development dimension has been given particular attention, notably through the implementation of projects involving producing income, or the infrastructure for potable water or electricity, which benefit the local communities in the villages where Medersat.com schools are located.
Dr. Leila Mezian Benjelloun
Chairwoman